© Copyright 2023, Daffy Dave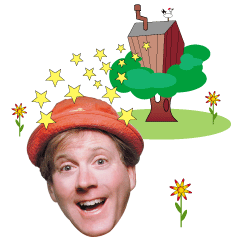 Earth Day Everyday: Daffy Dave's Tree Fort
Environmental Actions and Interactions, Messages and More. For Children and Adults.
The "convenient fib" is that our earth's natural resources are infinite and that we can use them as much as we want and however we want without negative consequences like air, water, and soil pollution, disease, Global Warming and the potential destruction of our entire planet. Conventional media is reluctant to tell the deeper, hidden stories of and the true cost of "negative" resource creation (eg, coal and oil) and wasteful consumption.
Green Dave is an investigative reporter for kids who has a simple story to tell about how our earth's resources are currently being abused and wasted and what can be done to save the planet by "having fun taking care of the earth every day." Everyone of us can and needs to be a superhero for the planet earth to be saved. Green Dave discovers how many people are already helping and how each of us can join with these planetary heroes to make our ways of living on the earth less harmful and more sustainable for all of us now and for years to come.
Version 3.0 of Daffy Dave's Tree Fort is now available on DVD with more clowning and important messages for the future stewards of the earth – our children.